Bakery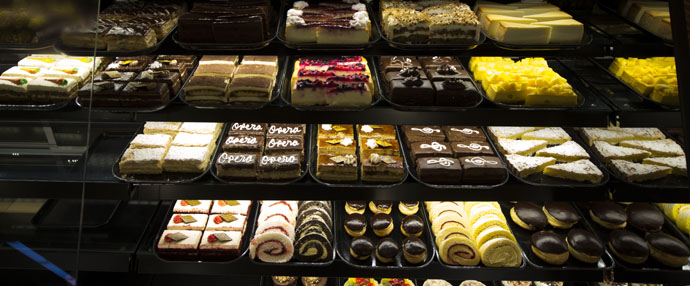 The Cermak Fresh Market Bakery offers a large selection of freshly baked goods and our bakery section beckons you with the smell of delicious and nutritious products coming straight from the oven.
We present the finest breads, pastries, and cakes, and can custom bake anything to your specifications for those special occasions. We provide a wide variety and selection in our baked goods section because we specialize by using of both new and traditional baking recipes. In partnership with our local friends at The Chicago Sweet Connection Bakery, we offer our customers only the finest sweets and deserts. From over 100 cake variations, to homemade cookies, coffee cakes, pies, donuts and decadent pastries, the bakery at Cermak is sure to fulfil any sweet tooth.
Traditional and European style loaves are among our specialties, prepared daily, and we carry the most popular brands of Italian and French breads.And, of course, you have our guarantee that all of our in-house products are made with the freshest ingredients. Whether its sandwich breads, pizza crusts, special desserts, or popular pastries, Cermak Fresh Market has the best available for those delectable confectionaries or special grain muffins and breads you may be seeking.
Beverages

The Cermak Fresh Market Beverage & Spirits Department offers a wide selection of beverages, guaranteed to quench your thirst. Whether you are seeking a selection of beer or wine for a party or just want a crisp, clean sports drink after a morning jog, you'll find what you need from our huge beverage selection. Be sure to view our gallery of carbonated sodas which include domestic brand favorites as well as a selection of foreign labels that provide a variety of flavorful alternatives.
Our friendly staff can answer any questions you might have regarding liquors, wines, or beers in order to make the perfect selection for dining or entertaining plans. We carry a mixes, garnishes, equipment, and recipe books that are sure to make your party events festive, colorful, and successful. Whether you're seeking the right potables for a special occasion, non-alcoholic alternatives, bottled water, or sparkling beverages, Cermak Fresh Market's beverage sections can meet your needs.
Some of the brands we offer are Coa Cola brand products, Pepsi, Budweiser brands, Nestle Waters (Perrier, Portland Spring, S. Pellegrino, Acqua Panna, Ice Mountain and more), and hundreds of other beverage brands.
Deli

The Cermak Fresh Market Deli Department offers a large selection of deli sandwiches, meats, poultry and fish, cheeses, and fast meals for those on the go. We offer a wide variety of cold cuts and assorted fresh breads from our menu combos or you can design a creation to your own specifications. We offer selects from some of the largest brands which include deli items fromSigma Foods (FUD, La Chona, Longmont), Sara Lee, the Boars Head brand and many more. For the lighter fare, choose from made-to-order green salads or salad 'sides' prepared from pasta, potato, chicken, tuna, or shrimp.
Our deli rotisseries offer warm, freshly cooked chickens which may be purchased whole or in sections. For parties, office meetings, or special occasions we provide tray assortments that are professionally prepared and as attractive as they are appetizing. So whether you're looking for a fresh alternative to fast food lunches or want to plan for an entire event, Cermak Fresh Market Deli is the place to visit.
Dairy & Frozen Foods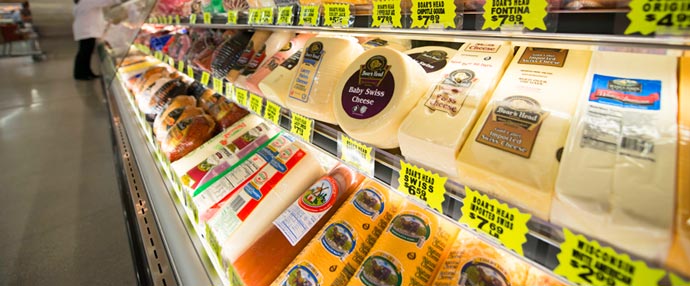 You can count on the freshest and finest in named brand dairy products at Cermak Fresh Market. We provide a wide selection of 'fresh from the farm' dairy products, including milk, sour cream, cheese, eggs, yogurt, and soy all which contribute to your nutritional benefit with the great taste you expect.
Our entire dairy line is supplied by established producers in order to ensure freshness and quality. Complement your meals with a selection from our domestic or imported cheese products by using them chopped in salads, combined in soups or sauces, or simply sliced in wedges on the side, a great choice for dieters.
Many of our dairy products are available in low-fat varieties which provide the taste you want with the healthy choices you seek. What ever you're seeking in dairy, you're sure to find it in Cermak Fresh Market's generously stocked dairy section.
Produce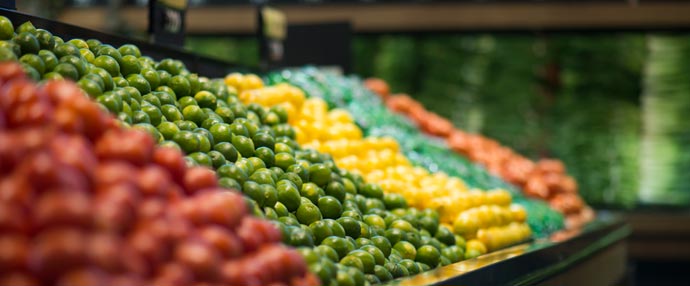 The Cermak Fresh Market Produce Department offers our customers the freshest selection of fruits and vegetables, the perfect compliment to any healthy meal. We guarantee our produce is just as fresh as when it was harvested. You'll enjoy a variety of unique and exotic items from mouth watering fruit to crisp vegetables.
Choose from red delicious or golden apples, citrus fresh oranges and grapefruits, healthy cherries, blueberries, and strawberries, or appealing banana bunches, just right for eating or perfect for ripening for use in cakes and pastries.
Exquisite salads start with our crisp lettuce, firm tomatoes, onions, carrots, cucumbers, and radishes and our fresh cabbages, mushrooms, and peppers will contribute texture, color, and flavor to any recipe. Your healthy choice in eating begins by starting in the produce section of Cermak Fresh Market.
Cermak Fresh Market works with farmers both local and internationally to provide our shoppers with the most diverse selection of produce from all over the world. Our produce is picked and delieverd fresh to give our customers and experience unparallel to any other grocery store. We're committed to offering the best quality you've ever eaten. Visit our produce department for the freshest and healthiest picks of the season!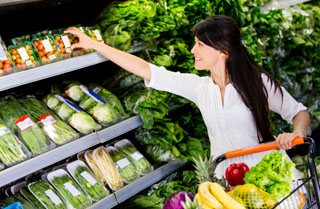 Cermak Fresh Market
Cermak Fresh Market is a premier Chicago Supermarket Chain located in the Midwest, United States. Our company specializes in a variety of ethnic foods catering to Mexican, Puerto Rican, Greek, Italian, Polish, Russian and other European and Latin American cultures.