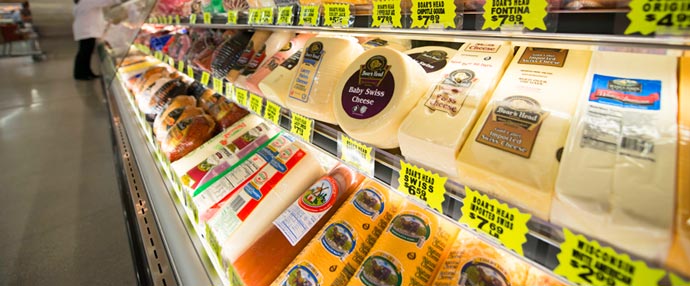 You can count on the freshest and finest in named brand dairy products at Cermak Fresh Market. We provide a wide selection of 'fresh from the farm' dairy products, including milk, sour cream, cheese, eggs, yogurt, and soy all which contribute to your nutritional benefit with the great taste you expect.
Our entire dairy line is supplied by established producers in order to ensure freshness and quality. Complement your meals with a selection from our domestic or imported cheese products by using them chopped in salads, combined in soups or sauces, or simply sliced in wedges on the side, a great choice for dieters.
Many of our dairy products are available in low-fat varieties which provide the taste you want with the healthy choices you seek. What ever you're seeking in dairy, you're sure to find it in Cermak Fresh Market's generously stocked dairy section.