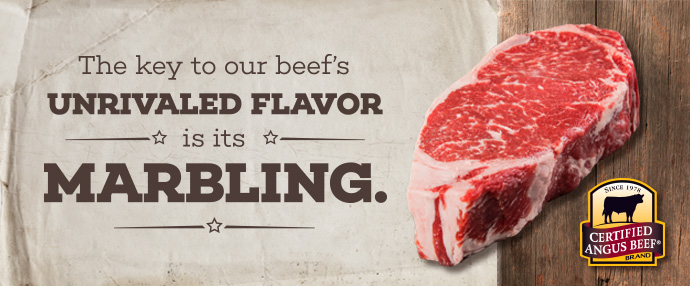 The Cermak Fresh Market Meat and Seafood departments provide top-quality meats and seafood of all desired varieties and serving sizes. Thanks to our expert in-house butchers, you can have any of our fine meats prepared to your specifications. We provide and serve only the best USDA Choice pork, chicken and fish, and as an official retailer of the Certified Angus Beef ® , you get the best Angus beef available.
Since 1978, the Certified Angus Beef ® brand has been the only Angus brand owned by the American Angus Association®, which represents at least 25,000 cattlemen and women, and their families. Abundant marbling and 10 exacting standards ensure only the highest quality cuts reach your dinner table, meaning every bite is full of unrivaled flavor, tenderness and juiciness.
At our meat case, be sure to check out the brand and our famous selection of sumptuous roasts, thick steaks, chops and ribs. In addition to our popular beef and pork products, we offer select cuts of veal and lamb. Our poultry options include a wide variety of whole or sectioned chicken and turkey. Don't forget, we also have exotic meats, including sweetbreads and ethnic favorites too numerous to mention, and prepare fresh-fish items daily for the times you want to spice up your menu.