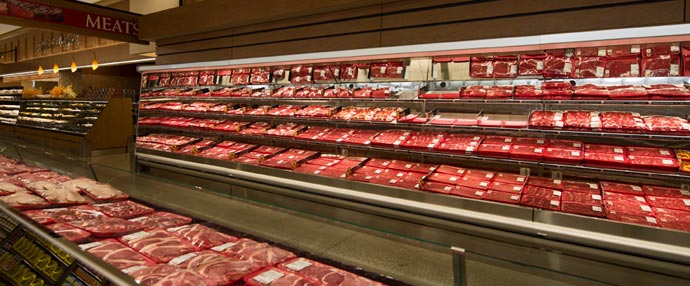 The Cermak Fresh Market Meat and Seafood departments strive to provide the utmost quality of meats and seafood all available in any desired serving size. Our in-house butchers can prepare any of our fine meats to your specifications, as required. We provide and serve only the best, U.S.D.A. choice pork, beef, chicken, and fish. As an official partner of the Certified Angus Beef brand Cermak Fresh Market works with CAB to offer the finest natural beef available. CAB is the first Angus brand that is owned by the American Angus Association that currently represents nearly 30,000 of America's Angus ranchers and their families. With all of these certifications, we are sure that each and every bite is flavorful, juicy and naturally tender.
Come choose from a selection of sumptuous roasts, a variety of thick steaks, chops, or ribs. In addition to popular beef and pork products, we offer select cuts of veal and lamb. Our poultry selection includes a wide variety of whole or sectioned chickens and turkey. Additionally we provide a variety of exotic meats including sweetbreads and particular ethnic favorites too numerous to mention.
Our wide selection of fish and seafood is procured daily and offers variety in the form of fillets and fish steaks, great for the grill, or from a wide choice of shelled seafood. Our fish and seafood provide a fat-free alternative to other meat products while supplying many of the same nutritional benefits.